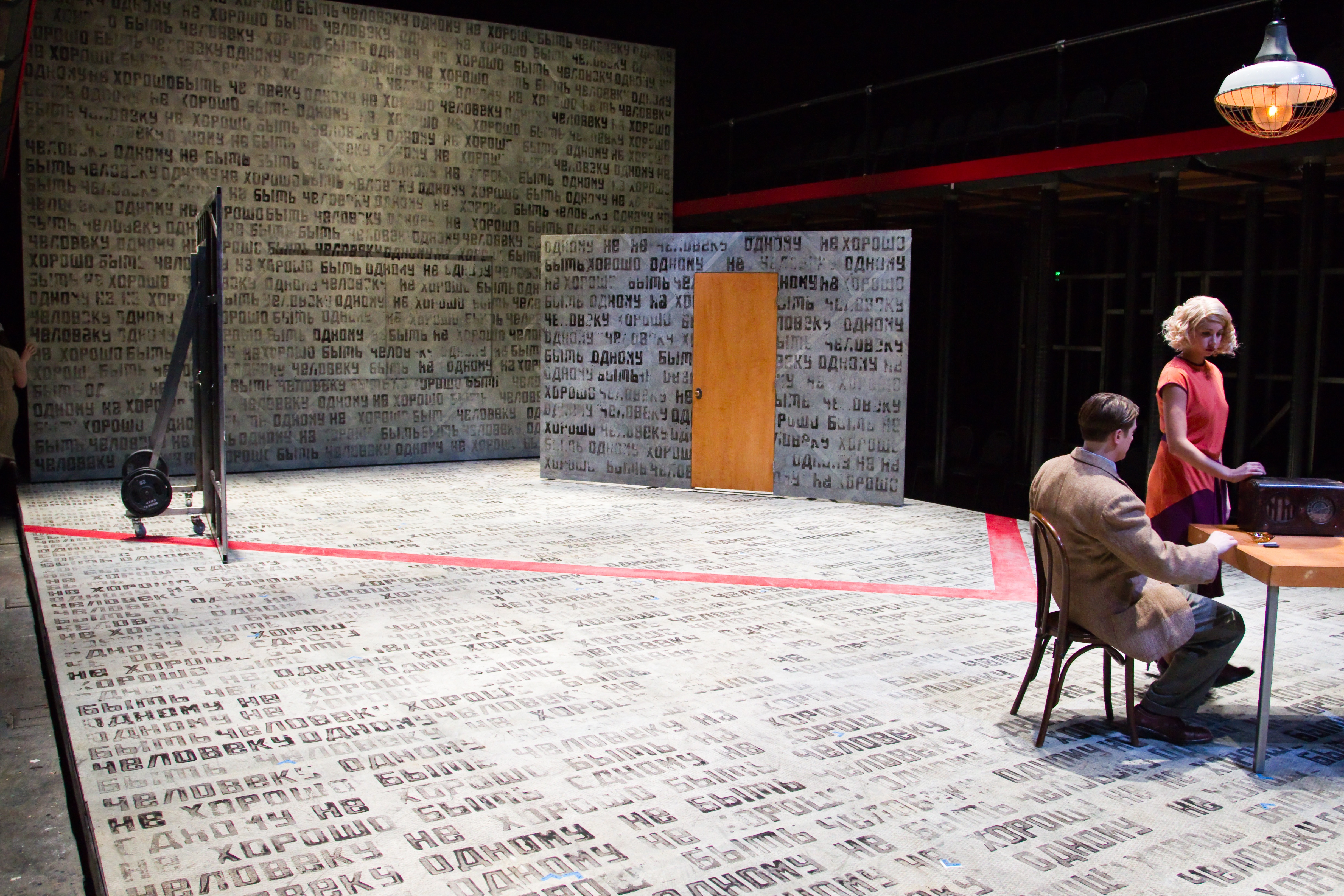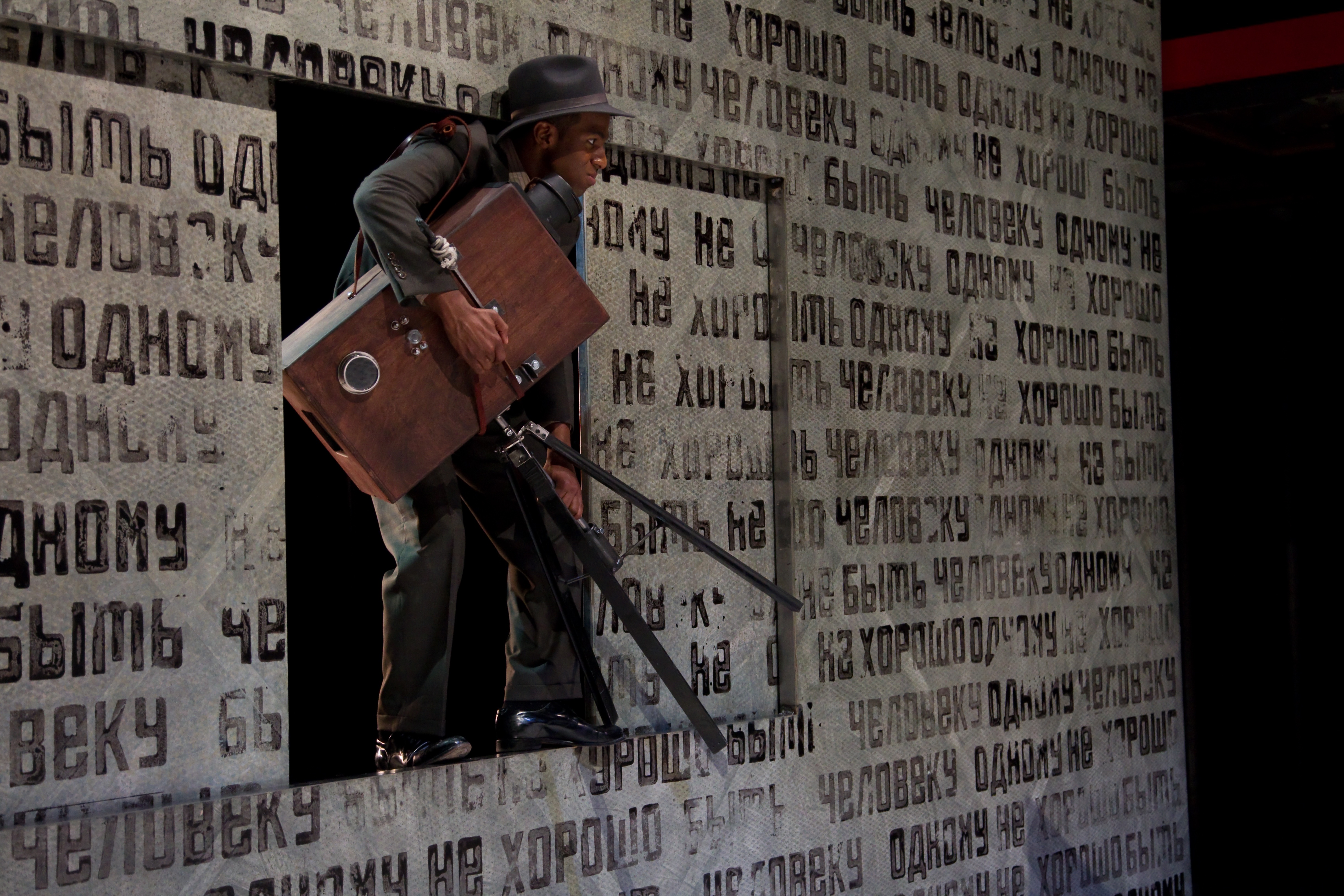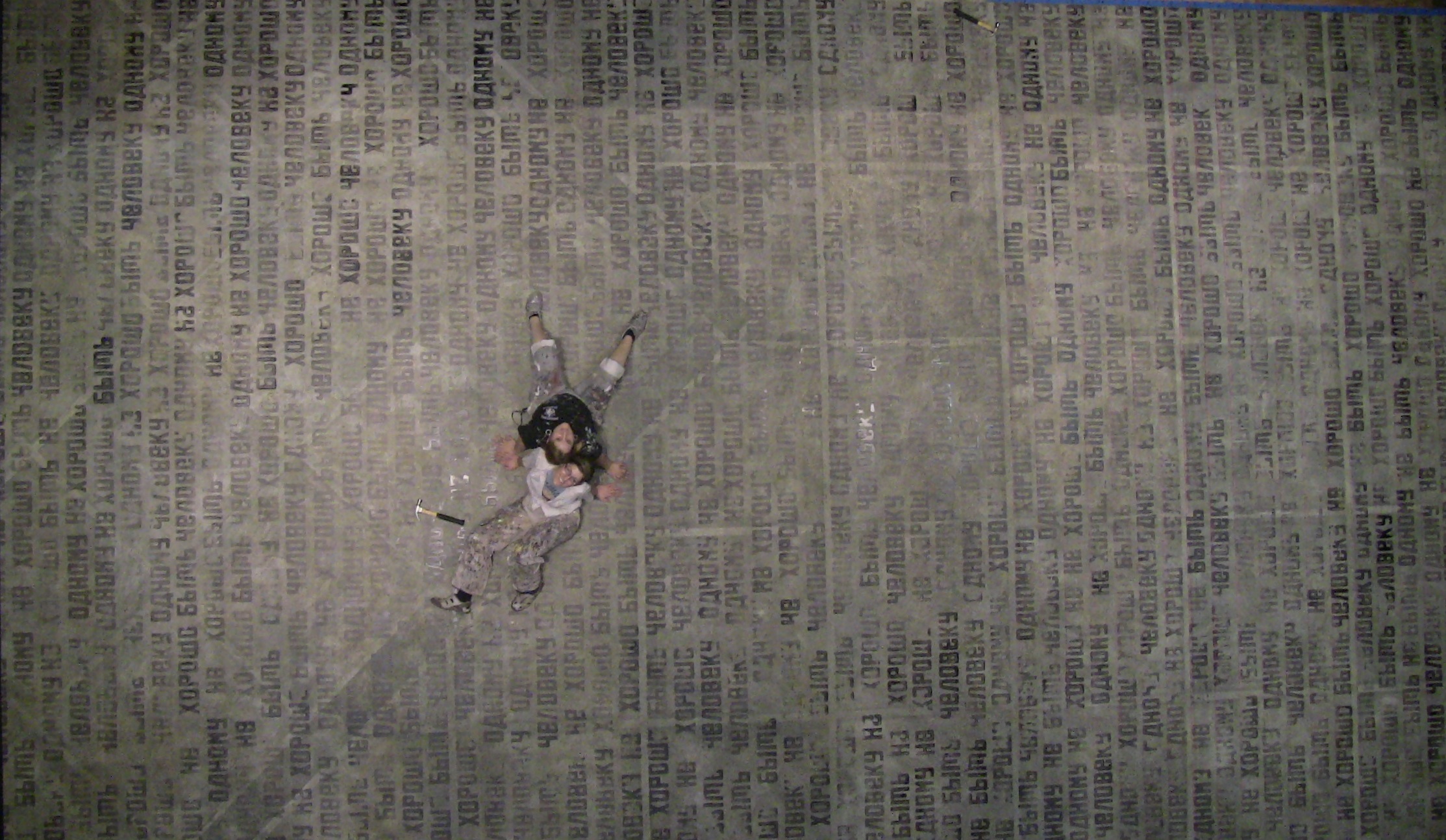 Scenic Artist

Jamie McElrath
Lead Scenic Artist: Jamie McElrath
Asst. Scenic Artist: Amanda Leigh Smith
ADAM AND EVE at California Institute of the Arts, 2010
The scenic designer wanted to have a treatment that resonated as being machine made. Sheets of paper put through a printing press or words that came out of a freshly inked typewriter. The main research was based off of a poster that shown Stalin in the center, covered by Russian text.
We can up with a scumble process with chip brushes on sticks using a primer, leaving just about as much bare MDF as we had covered. We then applied a light green wash (Rosco off broadway). After that we used expanded steel and moved it along as we sprayed Rosco (off-broadway) washes of brown, blue, and yellow through the steel with 3 hudson sprayers to give it a machine look. After that we measured, and put in a nail every 7 inches down the floor in order to give us out guide lines for the 5 russian words that were chosen.
We were given an elevation that we followed exactly. After finding the center line, we also nailed that down and attached twine. We began stamping just the words that appeared along the center line, and the words that were on the side edges of the floor and wall. We then filled in the rest, leaving enough space so that the stampings did not become cluttered.
We created the stamps shown in the photographs out of L200 foam, which is a non-absorbent foam that I found lying around the puppetry shop scraps. After sampling, I realized that it allowed us to have variation of heavy and light stampings, which was something the designer had requested. We used Rosco Foamcoat to apply the foam to plywood. (The foam never budged!) The handles for the stamps were cheap sqeegy mops from a hardware store. I still have one of these stamps with my portfolio. I began referring to them as soldiers as they certainly took on a mission.
The words were measured at 5 inches and the plywood was measured at 7 inches. Using these stamps, with the guidelines we had measured out, we were able to line the top of the stamps up with the twine which allowed us to have a level spacing in between each line of text automatically.
We used Rosco off-broadway paint mixed with black breakthrough and a little amount of water to give us a glossy purple/black "ink".
All in all it was an extremely successful production as far as the scenic side of things go. Definitely one of my best portfolio pieces and best memories of working with such a great crew.